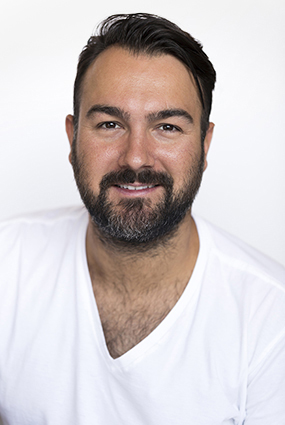 Dustin Shores was born in 1983 and grew up in the rolling foothills of North Carolina. He received his BFA in Fine Arts Photography from Winthrop University, located in Rock Hill, South Carolina in 2009.  Shores' is a working artist and arts educator. He currently resides in Tucson, Arizona and is pursuing an MFA in Photography at The University of Arizona.
Project Statements
"West by Wester" (2016) I had always dreamed of moving to the West to experience and live alongside its embedded stories and myths. In my current body of work, West by Wester, I am investigating my preconceived notions of the allure and illusion of the West. Similar to a tourist, I have been making pilgrimages to must­ see venues and locations, including the Grand Canyon, Las Vegas, the Hoover Dam and others. These locations are photographed daily by visitors, seeking to capture the "spectacle" as framed through literature, photographs, and movies. This westward wandering has presented me with a more complicated and nuanced reality than I imagined.
My response to these spaces has formed a duality of awe and apathy. Experiencing the West and standing in front of these grandeur locations, I realize that I cannot translate the experience through a photograph, but I can create a representation evoking my complicated emotions of anticipation, confusion, and disillusion. These photographs are a personal critique of how my ideas of the West have transformed and how society consumes the West within a contemporary context.
It's all the gawking. All the flocking. Witnessing the spectacle. The dance and the scene. The zip, wiz, bang.  The sparkle and the dust.
"American Glitter" (2015) I create and photograph ephemeral installations using objects that have illusionary qualities. The installations serve as a glimmering metaphor of instability and uncertainty. I'm interested in how the photograph is accepted as reality but can be an illusion of space and time. This is where my desire to create interventions with the physical space originates. I want the viewers to generate their narrative, questioning the meaning and purpose of the installation and its importance to the photograph.
"Forget-me-nots" (2014) is an exploration displaying the consumption and preservation of memory within a visual context.  A single color sheet of paper is used to evoke a memory.  The memory is then transferred onto the sheet of paper.  The paper is then ripped up and put into an empty pill casing.  The pill is then consumed.  The process is photo documented to generate image making in the creation of artwork.  For every memory we have, there must be a reason why we have consciously or unconsciously chosen to keep it.  The fear of losing our memory is, in essence, the fear of losing ourselves.  I am interested in creating artwork that is both honest and intimate.  These elements allow the artwork to have purpose and meaning.  Memory and the ability to preserve it is one constant that gives us our humanity.
"Spin, Span, Spun" (2013) is an exploration into pushing still photography into a multimedia direction. I explore both the physical and digital making and displaying of artwork to create something that exists in-between. These works cannot be created without the use of physical drawings, and they cannot be displayed without being digitized. This body of work started as physical ink drawings. The drawings are then digitized, filmed, and photographed to produce other works. Conceptually, I am pushing the artwork in a direction to reference both the physical and virtual world in which we simultaneously exist.